GreenWin's 7th edition of International Conference on Green Chemistry & White Biotech - "Towards a Fossil-free Energy: Challenges and Opportunities for R&D and Industry"
GreenWin's 7th edition of International Conference on Green Chemistry & White Biotech - "Towards a Fossil-free Energy: Challenges and Opportunities for R&D and Industry"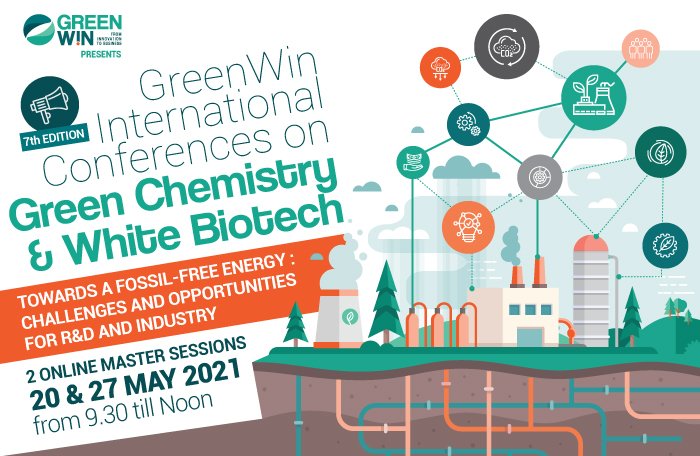 27 May 2021 Conference
Jean Jouet Jean-Yves Tilkin Guy De Weireld Guy Davister Fabrice Orban Richard Heyn Philippe Quirion Frédéricq Peigneux Patrcik Hendrick Panda Sandeep Babette Pettersen Michael Koepke Vincent Flon Philippe Henry
The 2 online Master Sessions will take place on 20 & 27 May 2021 from 9:30 till noon.
This year edition will be focused on Carbon Neutrality, supported by CCU (Master Session #1) and by energy storage with a specific focus dedicated to batteries recycling (Master Session #2) technologies and processes.
The purposes of the Master Sessions are:

> to assess the innovative technology used to boost activities in the fields of green chemistry and white biotechnology around the world,
> to share knowledge and gain a new experience in doing so and
> to stimulate the creation of new R&D projects involving the academic world, research centres and industrial players from the sector, both at regional and international levels.
> to highlight the link between Research and Market.